To me, Muse are latter day guitar heros! When I hear their songs, it makes me all goose-pimply, and they're are absolutely kickass live.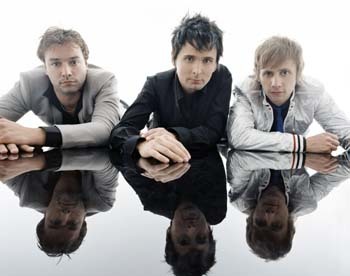 The band consists of Matthew Bellamy, Christopher Wolstenholme and Dominic Howard. They formed under the name Rocket Baby Dolls in 1994 but changed their name soon after.
Their first album Showbiz was released in 1999 – with a lot of their songs reflecting the struggle the band had making a name for themselves in the early years.
Second album Origin of Symmetry was released in 2001, featuring lots of unusual instruments such as church organs and a Mellotron. A live cd/dvd called Hullabaloo was released in 2002.
Absolution was released in 2003 – Muse's most controversial album so far with a lot of political imagery.
Black Holes and Revelations was released in 2006 – this album was nominated for the Mercury Music Prize but lost out to the Artic Monkeys. The album was supported by many festival appearances, and were the Sunday night headliners at the Leeds festival of that year.
In March 2008 Muse released their second live cd/dvd package, H.A.A.R.P – which stands for High-Frequency Active Auroral Research Program.
A new album is slated for release in late 2008/early 2009.
The band have released four studio albums: Showbiz (1999), Origin of Symmetry (2001), Absolution (2003) and Black Holes and Revelations (2006) as well as two live cd/dvds – Hullabaloo (2002) and H.A.A.R.P (2008)
sumber